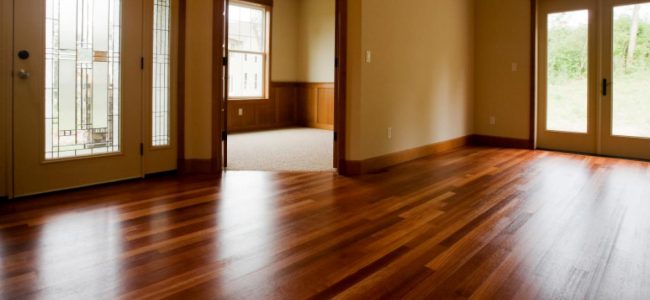 Hardwood floors give a home character, prestige, and a higher value.
However, floors that are damaged, dusty, and scratched will look considerably less impressive.
With the right house cleaning service, your hardwood flooring will look shiny and spotless again in no time. Take note of our expert floor cleaning tips:
Regularly Clean Your Hardwood Floors
If you have pets, your floors are covered in hair quite frequently. Those who are renovating their homes might be dealing with a constant onslaught of sawdust.
The dust that builds up on your floors can be abrasive when it's walked on. That's why sweeping each day is ideal. When you schedule a house cleaning in Oxford, AL, you won't need to worry about keeping your floors clean.
Try to sweep each day (or every other day) to keep things tidy and scratch-free. Dust and oil spills make hardwood flooring slick and easy to slip on. You can also use floor cleaning for slip, trip, and fall prevention.
Routine maintenance will keep your hardwoods in top shape. If this sounds too time intensive for your busy schedule, consider hiring a house cleaning service instead.
Use Furniture Pads & Rugs
Before you decide to move your living room couch, chairs, or dining room table, take a pause. Inspect the legs of the item to see if there are furniture pads on the bottom. If there aren't, make sure to apply some before moving the object! Without furniture pads, your wood floors could be scratched by the weight and abrasive texture of the legs.
You may already know that water can damage hardwood floors, but you might not know how to prevent it. Placing doormats near the entrances and exits of your home will prevent outside shoes from making your floors messy. These rugs will absorb water and stop dirt from spreading throughout your home.
If your floors have been damaged by a water spill or impact in the past, you can always cover up the spot with a rug! Hire a house cleaning service to stay on top of daily spills and stains.
Identify the Proper Cleaning Products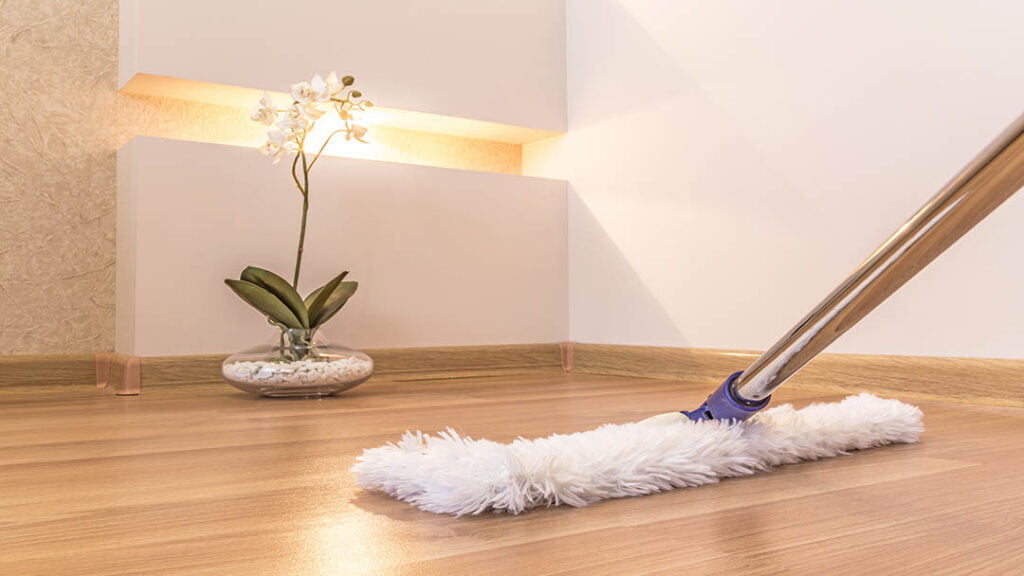 Depending on the surface of your hardwood floors, you'll need to use different cleaning products. Using an improper cleaning agent may ruin the finish of your floors.
You must start by identifying what type of hardwood floors you have. Don't use water on floors that are finished with wax or oil—instead, stick to cleaning products that are designed for these particular surfaces. It might be best to consult a house cleaning professional in order to avoid damaging your floors.
If you prefer to vacuum floors, make sure to use a head with soft bristles that is intended for hardwoods. Vacuums that aren't meant to be used on wood may scratch the floors.
After you've removed all dust and hair, you can wash your hardwood flooring, but try to wring out as much water as possible from the mop. A microfiber mop will attract dirt without retaining too much moisture.
Prevent Floods & Wipe Up Spills
Basement flooding can cause extensive water damage to your floors—they could be ruined beyond repair. Try to implement flood preventative measures, which include:
Inspecting your sump pump. This system will divert water away from your home if it accumulates in the pit. Without it, your basement may flood, which can damage your hardwoods and belongings. Test the sump pump each time spring rolls around to ensure it's in working order.
Checking for gaps in your home's foundation. Water can enter through hairline cracks in the foundation of your home. Check for water damage on the walls to identify any leaks.
Sealing any cracks in the walls or floors. If you spot any gaps where water can get in, seal them sooner rather than later—you'll thank yourself for it when the snow melts!
Allowing water to sit on your hardwood flooring may not seem like an immediate crisis. But moisture damage causes wooden boards to warp, crack, and separate. As soon as you see water on your floors, tackle those puddles with an absorbent towel.
Apply Polish To Your Hardwood
Want to make your floors as reflective as a sheet of glass? A coat of wax or polish will transform the surface of your floor. Depending on how much foot traffic your floors endure, you can reapply a coating every 3-5 years.
Given how much time that most of us have spent at home lately, a coat of wax won't go unnoticed. This is especially beneficial to those who work from home since a clean office can promote productivity. Professional house cleaners in Bremen, GA can help!
If your floors call for it, you can schedule a refinishing or sanding service. This should only be done every 10 years or so, but it can dramatically transform the appearance of your floors. With a house cleaning service, you can avoid the annoyance of frequent maintenance and upkeep!
When you use the above cleaning solutions, your hardwood floors will look immaculate for years to come. A clean environment will facilitate productivity, peace of mind, and better air quality.
Call Spotlessly Clean for a House Cleaning Today!
Are you interested in house cleaning services for your hardwood flooring? Reach out to Spotlessly Clean today for a free written estimate for your cleaning services! You can CONTACT US today through our website's contact form, or call us at 256-201-7023. We look forward to hearing from you!