If you have ever had some construction work done in your house, you know the mess that's always left behind. Regardless of how careful the workers have been, you won't be able to escape dust and dirt. And it's not just any dust and dirt. You must know that some construction debris is detrimental to your health. Also, drywall dust and brick dust can damage your newly remodeled home. Therefore, when all the works are over, you will need some specialized cleaning services.
Luckily, you don't need to worry. Spotlessly Clean is there to help you with all the post-construction cleaning. We are also here to give you some helpful advice on how to go about this task efficiently and effectively, so you can get your new and improved home back in order.
Should you hire professionals for post-construction cleaning?
While construction companies will clean after themselves, make no mistake – you will not be able just to move back in and start living there. Dust and debris can find their way into every single nook and cranny in your home. Construction companies will not handle that well as they don't have the same cleanliness standards as the cleaning companies. Also, while it's possible to perform post-construction cleaning yourself, hiring a cleaning company is highly recommended. So, if you are in Tallapoosa, West Georgia, why not contact experienced cleaners to help you out.
An untrained eye can easily miss areas where dust has collected. And you will need adequate filters and cleaning supplies to clean these areas properly. The trouble is that most households don't have access to such products. On top of that, construction workers usually use substances that are exceptionally difficult to clean with regular cleaning supplies. So, to eliminate them, you will likely need industrial cleaning technology. Moreover, nails, wires, plywood, glass, and other construction materials that the workers may have left behind must be disposed of appropriately. Therefore, before you call Golans Moving and Storage to transport all your belongings back into your home, contact professional cleaners to take care of the cleaning job the right way.
The necessary equipment
To begin with, eye protection, dust masks, and rubber gloves are essential. Then, there is the list of the most common items needed:
Broom and dustpan
Carpet cleaning machine
Cleaning supplies
Floor scrubbers
Air scrubbers
Extractors
Burnisher
Mops, buckets, wringers, and/or steam mops
Scrub pads and brushes
Pressure washer
Step ladder
Vacuum
Waxing equipment
Window washing equipment
Swing arms.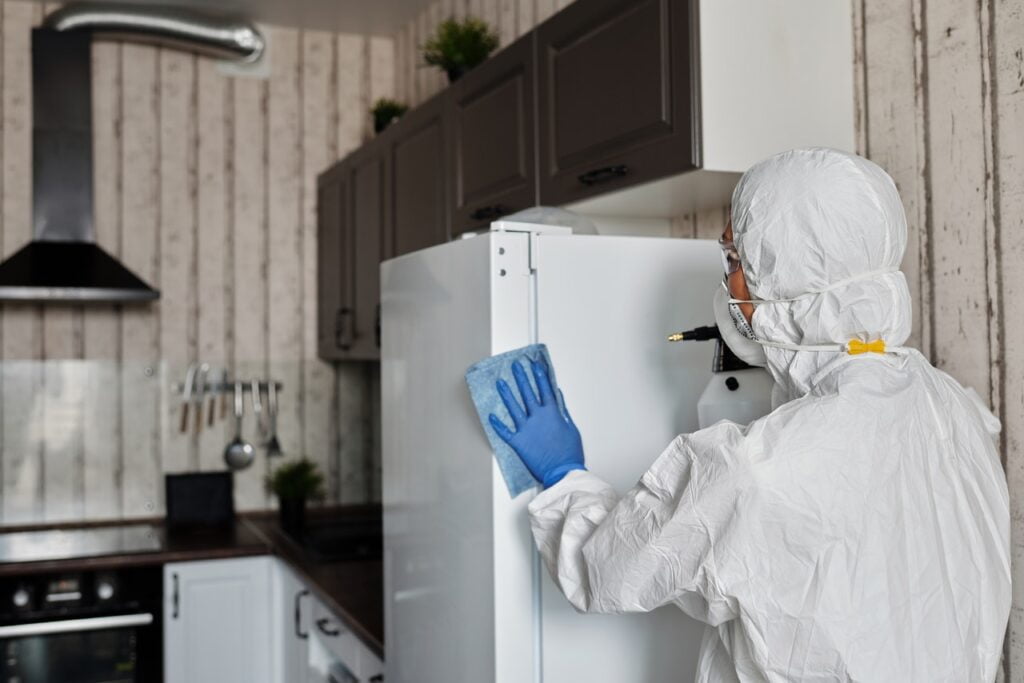 As you can see, the list is quite extensive. Moreover, not every project is the same. Thus, the chances are that some other items would be necessary depending on what is being cleaned. A professional cleaning company will know exactly what you need. And wherever you are, you will surely have someone reliable to call. If you are in Bremen, contact your cleaners there. If you are anywhere else in West Georgia, know that you are not alone.
What does post-construction cleaning involve?
The good thing is that your belongings are probably safely stored in a storage unit, away from dust and debris. Hopefully, you have also made sure that they are safe from other perils because you have done your best to understand the contract to the tiniest detail. Another good thing is that you have an empty space to clean, which will make things much more manageable. Now, you can commence cleaning.
Cleaning drywall dust
Probably the hardest thing to clean after the construction project will be all the drywall dust that has collected literally everywhere. If your workers have taken some measures to contain the dust, the process will be a bit easier.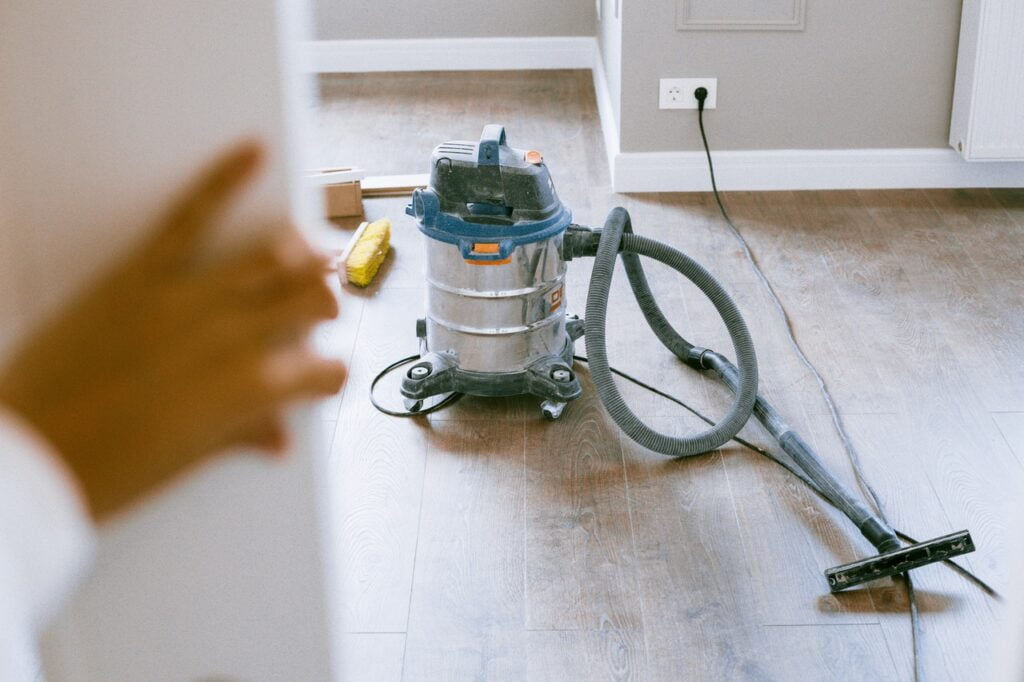 Firstly, you need a dust mask and eye protection. Then, get a spray bottle with water. Drywall dust will absorb the water, which will prevent it from floating all around. Then it will be easier to sweep.
It would be best to start by wiping down the walls using a damp cloth and then proceed to all other surfaces. But make sure you don't use too much water because that will result in another kind of mess. Then you can continue gently sweeping or vacuuming with a wet/dry shop vacuum cleaner. A regular vacuum is not advisable here. Professional cleaners in Temple will know that and will have brought the appropriate equipment.
Post-construction cleaning checklist
This checklist is like a guide that you can follow if you decide to clean yourself or use it to inspect your home after cleaning.
Entrances and exits
Dust and wipe exterior lights
Clean doors, door frames, and doorknobs
Sweep entrance ways
Living room and other common areas
Sweep, vacuum, and mop the floors
Dust and wipe all the lights
Make sure doorknobs and light switches are clean
Windows, window sills, and window tracks are clean, and dust is removed
Scrub of paint drops or other substances on the floors
Remove all the trash
Wipe the doors and doorframes
Kitchens
With many small crevices and often overlooked areas, kitchens are typically the most complicated spaces to clean.
Dust and wipe all shelves and counters
Clean the inside of appliances
Clean the cabinets and drawers on the inside
Make sure all the hardware is clean
Sweep, vacuum, and mop the floors
Clean windows, window sills, and window tracks
Clean sink and backsplash
Wipe all the fixtures and finishes
Bathrooms
Clean and sanitize the sink, tub, shower, and toilet
Wipe down the mirrors and counters
Clean the cabinets and drawers inside and out
Sweep and mop the floors
Clean the windows, baseboards, light fixtures, doorknobs, and doorframes
Wipe the wall tiles from floor to ceiling
Bedrooms
Clean the closets on the inside
Dust light fixtures and ceiling fans
Wipe down baseboards
Dust shelving
Dust grates and vents
Remove paint from hinges
Outdoor spaces
The final step of the post-construction cleaning is the inspection of the outdoor areas. Check if all packaging, tape, plastic, and other construction materials are taken away and disposed of correctly. And then remember to:
Sweep and/or power wash the walkways
Sweep all porches, decks, and patios
Clean the garage door and mailbox.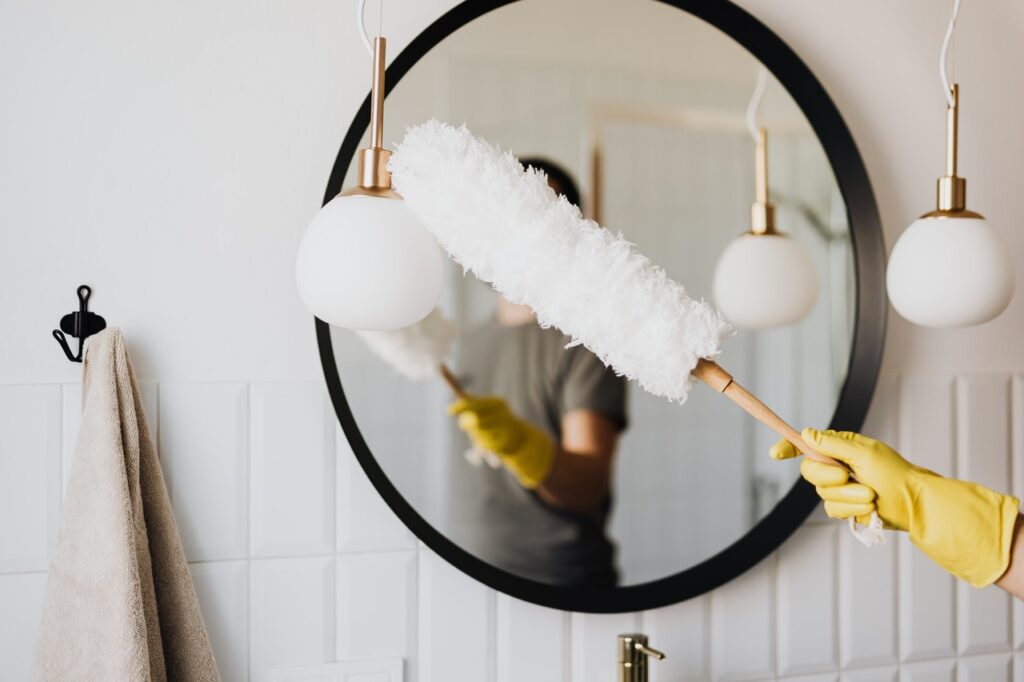 Conclusion
Post-construction cleaning involves detailed cleaning from top to bottom. It often requires specialized equipment to handle hard-core, cleaning-resistant substances that construction workers typically use. Moreover, it demands a keen eye that will spot all the usually-neglected areas. Therefore, if you have been thinking about tackling this endeavor yourself, you'd better think again and…
Book an Appointment with Spotlessly Clean now!
There are many benefits to hiring professional cleaners to handle all your post-construction cleaning tasks. And Spotlessly Clean can deliver these benefits to you. Take advantage of everything that experienced and professional cleaners can do for you.
If you're in West GA, Western KY, or Southern IL and need any help, contact us today for a free estimate.