As the days are getting warmer and longer, you and your family members are probably waking up from your winter slumber only to find that your home needs some serious spring cleaning. Spring is an excellent time of the year to regroup, declutter, and clean your house. In fact, the sense of purpose after cleaning your home in spring can have almost therapeutic effects alongside many health benefits. Read on to find out how to tidy up your home in spring in our ultimate spring cleaning guide!
How should I approach spring cleaning?
Spring is the perfect time of the year to freshen up your living space. Furthermore, consider turning spring deep cleaning or maintenance cleaning into a yearly event if you have kids. In this way, the whole family can have fun while doing something useful for your household.
Use a checklist
Spring cleaning can sometimes take up days or even weeks before your home is fully cleaned. Sometimes, it can be challenging to keep track of what you have done and what remains to be cleaned. Because of this, we suggest you compile a list of cleaning tasks on a weekly or daily basis. A comprehensive checklist of chores that need to be done in every room of your house should help you keep tabs on your cleaning progress.
Devise a clear strategy
Other than this checklist, you might want to commit to a specific 'cleaning strategy'. You can think of ways to turn cleaning into a fun competition for your kids to enjoy. For instance, you can organize a competition and delegate cleaning tasks to your family members. Whoever finishes the job first gets a small reward, such as candy, money, immunity from cleaning that day, an extra hour of gaming; the sky is the limit.
Another similar cleaning strategy you can use is called power cleaning. You can divide up your spring cleaning chores into smaller, individual tasks. Then you give yourself 30 minutes or an hour to finish a single job. For instance, when cleaning your bathroom, you can set the timer for 30 minutes to declutter, clean, and organize your bathroom cabinets. In this way, you won't leave your cleaning tasks unfinished. This strategy also enables you to do your cleaning at a manageable pace.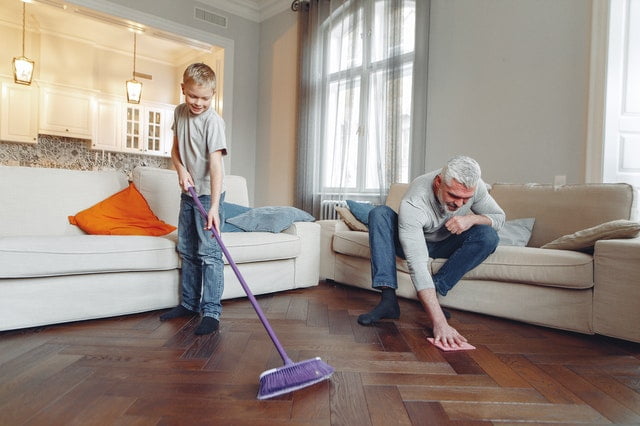 First declutter, then clean
The basic rule of good household maintenance states that you cannot have an immaculate home if you have too many things occupying it. In other words, "When in doubt, throw it out". Essentially, having too many personal belongings standing in the way will make cleaning really difficult. Consequently, you might lose your cleaning momentum in the chaos caused by simply moving things from room to room.
Accordingly, it makes sense to start off your massive tidy-up not by cleaning but by decluttering your home. If you have difficulty choosing what to throw away, we suggest devising specific selection criteria to help you decide. So, if you haven't used an item since last spring cleaning, it is probably time to throw it out.
Also, there is a good life hack that can help you decide which clothes to discard next spring. Hang the items you are unsure whether you want to throw away or not by turning them the other way around in your closet. Next time you do your spring cleaning, you can get rid of the clothes placed on these hangers since you will know you haven't worn them.
Donate or give away things you no longer need
Indeed, sometimes it can be pretty difficult to bear the thought that you are getting rid of your possessions just like that. As humans, we tend to get attached to things, but you have to be sensible about it. If you do not like the idea of getting rid of your belongings, you can encourage yourself to sort through everything. After that, you can find things you can donate to charity.
Reducing the number of belongings you have during is also highly recommended if, for instance, you plan to move to Alabama soon. Having fewer things to transport will reduce your packing and post-move cleaning workload and reduce the total transportation fees.
If, for example, you have to move and clean your new home on short notice this spring, remember that an experienced moving company can also provide some guidance. The guys from Park Moving Alabama can give you valuable decluttering or packing advice that you can later use is all your life situations.
Start by cleaning the rooms that you use the most
Some people like to list the cleaning tasks according to their priority. This means that you can start in those rooms that you use the most. So, families with small children will probably want to start cleaning the bathroom(s), kitchen, living room, and finally, the bedroom(s).
Clean the bedroom last
It is recommended you declutter and clean the bedroom last. Most people keep their clothes and other personal belongings there. So, cleaning your bedrooms can take up a lot of your time, especially if you haven't decluttered in a while.
Since you want to be as efficient as possible (and finished with the cleaning by summer), clean your bedroom last. However, if you are in a hurry to finish with cleaning in only a few days, you can hire a house cleaning service to help you deep clean your home in Bremen, West Georgia.
Do your spring cleaning room by room, task by task
Generally, it makes sense to do your spring cleaning in phases. So, not only should you prioritize your rooms when cleaning, but you should also stick to a single room until it is decluttered and cleaned to perfection. You will feel organized, focused, and accomplished when you cross out your kitchen cleaning checklist. Then, you can move on to a new set of cleaning tasks in another part of the house.
Also, suppose you are moving to Oxford, AL, on your own this spring, for example. You might have a hard time dealing with cleaning the entire house yourself after the relocation. It will be particularly so if there has been a significant remodel as well. In such a situation, a professional cleaning service based in the East Alabama area can help you figure out how to approach this job in manageable phases.
Essentially, post-construction cleaning can turn into a formidable challenge with all the boxes and furniture lined up in your new home. It can happen that you have too many things and not enough time to think about what to discard before the cleaning crew arrives. Then, you should consider renting a safe storage unit where you can place your belongings for the time being. So, be sure to think ahead and find the best possible services in Alabama where you can store your belongings while the post-relocation cleaning is taking place.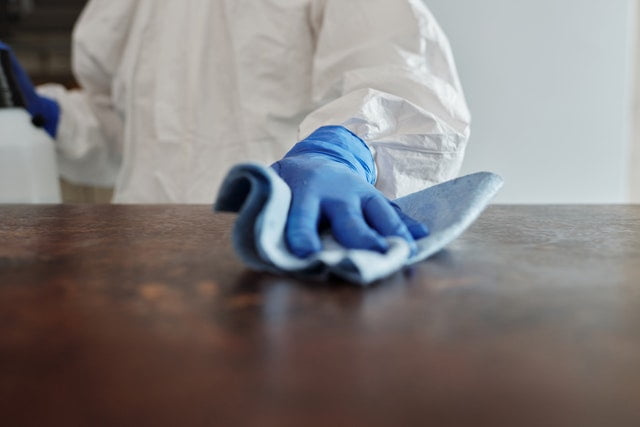 Clean your basement, attic, and garage after you clean your living space
The same applies to other rooms that might take days or weeks to put into order. At times, people tend to stack unwanted items and belongings into their attic, garage, basement, etc. So, naturally, you should start with decluttering. It may take a long time, but it has to be done.
If you start cleaning your basement first, the sheer amount of work you have to put in to clean it might discourage you from handling this colossal task altogether! For this reason, professional cleaning service providers in Carrollton primarily rely on this cleaning strategy for deep cleaning homes in West Georgia.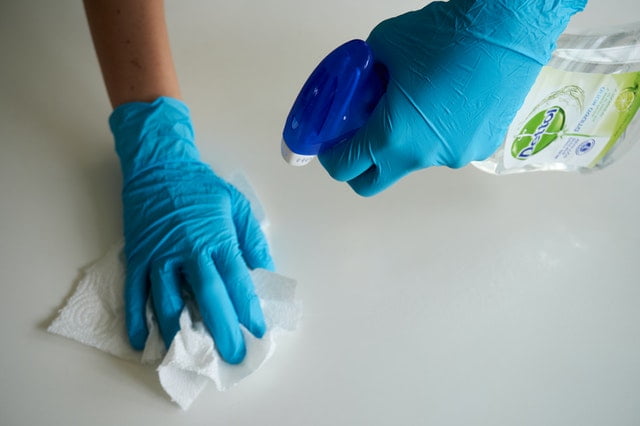 We hope our ultimate spring cleaning guide has helped you devise a tenable plan! If you have additional questions regarding cleaning strategies, do not hesitate to contact us. We will be pleased to advise you, answer your questions, or make an appointment to discuss this in person.
You can contact us through the contact form below. We will respond to your questions or give you a free written estimate of our cleaning service fees for your convenience!
Besides assisting your spring cleaning routine with deep cleaning or maintenance cleaning services, we also offer other kinds of services – office cleaning, commercial cleaning, janitorial cleaning, post-construction cleaning, before/after relocation cleaning, and many, many more!